Why we sing:
​Come share our joy of singing, togetherness and being part of Montréal and West Island social activities and events.
In Montréal and the West Island, choral singing (singing in a choir) has become immensely popular, as many people wish to go beyond group singing limited to intimate gatherings of friends and family. Discover the joy and fulfillment of singing in harmony and creating great moments together.
Coupled with the fulfilment of learning a skill in the pursuit of self-improvement; joining our choir has the added benefit of providing opportunities to make new friends while working together to create something beautiful.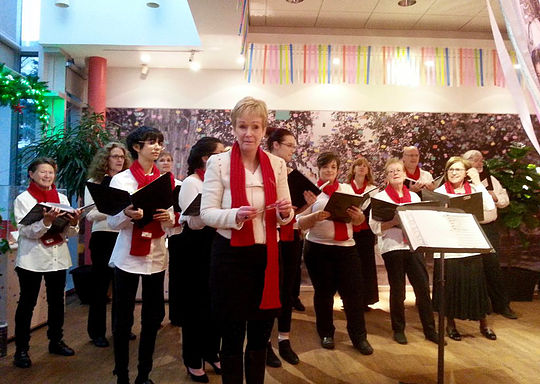 FAQ
When do we practice – most Sundays – usually at 12:30
Season: from Labour Day to the Fête Nationale
Where : 5065, rue Sherbrooke, Lachine H8T 1H9
Top-notch direction from Kerry-Anne Kutz
Don't read music? No problem!
Primarily English songs, some French
For ages 13 and older, all genders, all voices
Fees: $ 100 per session, two sessions per year plus cost of sheet music
Choir practices are both fun and challenging. We are taught proper posture, effective breathing, and producing good tone and beautiful harmonies. Don't read music? No problem. Vocal recordings of Soprano, Alto, Tenor and Bass parts are created for each piece for those of us who don't read music to allow us to practice at home (or on long car rides!).
Bring your love of singing
You don't have to be a member of Lakeshore Unitarian Universalist Congregation to join the Lakeshore Community Choir. You just need to love singing with others! Come Sing With Us!!!
To register or simply ask for more information, please fill in the Registration page to be found in the top menu on this page.